Study: Climate change made this year's northern summer droughts at least 20 times more likely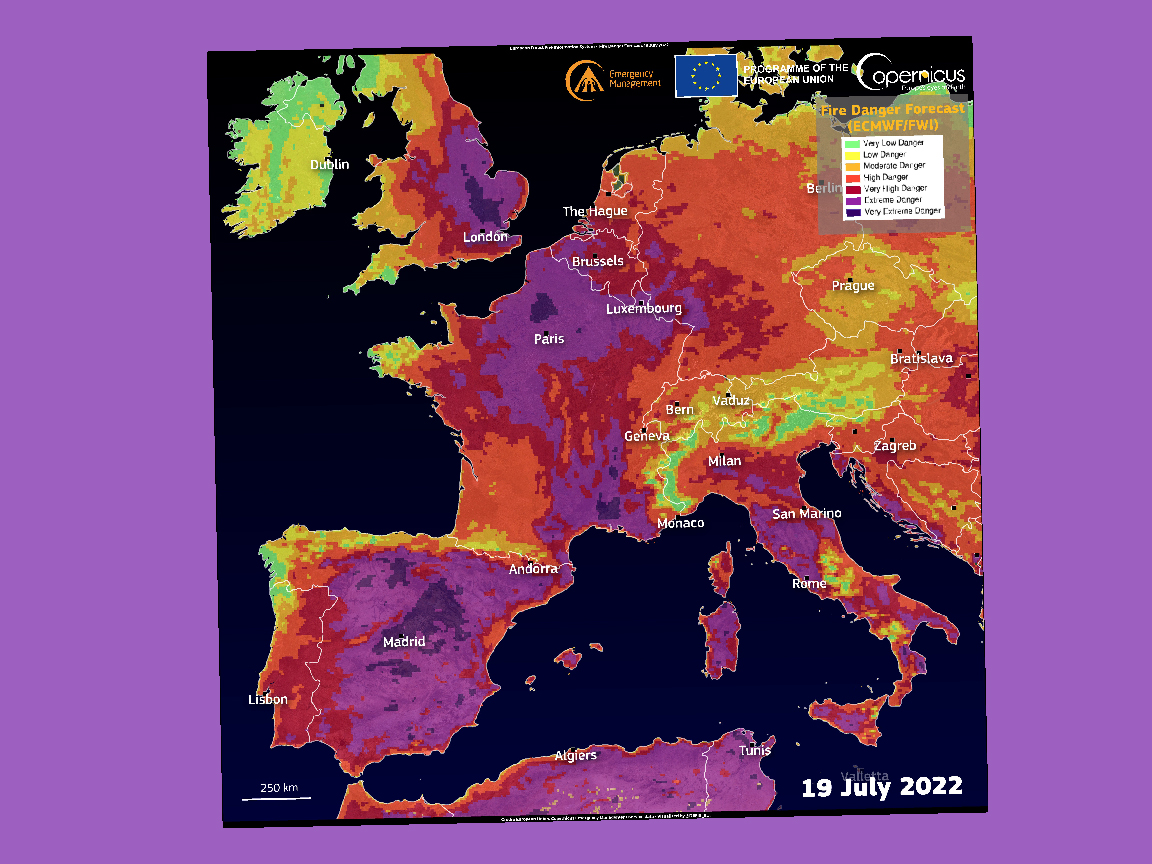 5 October 2022
By the Climate Centre
High temperatures driven by climate change dried out the soil across large parts of the Northern Hemisphere this summer, damaging crops and adding to pressure on food prices and security, according to the latest study by the World Weather Attribution group, which has just been published.
It focuses on Western and Central Europe (photo), which experienced particularly severe conditions, and estimated that what is known as agricultural and ecological drought in the uppermost metre of soil had been rendered at least 20 times more likely by human-induced climate change.
"Climate change increased temperatures across the Northern Hemisphere to such an extent that a summer as hot as this year's would have been virtually impossible without climate change," the international scientific team said.
The study was conducted by 21 WWA researchers, including scientists from France, the Netherlands, New Zealand, Switzerland, the UK and the US.
'The cascading of impacts
across sectors and regions'
A WWA team member, Friederike Otto, Senior Lecturer in Climate Science at London's Imperial College, said: "The 2022 Northern Hemisphere summer is a good example of how extreme events caused by climate change can also unfold over large regions in longer periods of time.

"It also shows how the combination of many different changes in the weather can damage our infrastructure and overburden our social systems.
A reduced harvest in Europe, she continued, was "particularly worrying as it followed a climate change-fuelled heatwave in South Asia that also destroyed crops, and happened at a time when global food prices were already extremely high due to the war in Ukraine."
The team noted that unlike temperature or rainfall that can be directly measured, soil moisture has to be estimated, increasing the complexity of the analysis and meaning their "estimates of the influence of climate change in the study are conservative: the real influence of human activities is likely higher."
Record wildfires
The scientists calculated that with climate change, a drought like this summer's can now be expected around once in 20 years, instead of, without it, around once in 400 years across the Northern Hemisphere and once in 60 to 80 years in Europe.
The 2022 northern summer was one of the hottest ever recorded in Europe, where wildfires were the worst on record; it also saw intense heatwaves in China and North America.
Climate Centre Director Maarten van Aalst, also a WWA scientist who joined the study, said today: "Heat and drought in Europe this summer not only caused tens of thousands of direct deaths, but also aggravated the cost of living crisis, compounding the impacts of the Ukraine war.
"We are witnessing the fingerprint of climate change not just in specific hazards but also in the cascading of impacts across sectors and regions".
A European Commission Copernicus map showing fire danger across Europe on 19 July – the day the British Met Office recorded an extraordinary temperature of 40.2°C at London's Heathrow airport, comfortably exceeding the previous national record temperature of 38.7°C set in July 2019. (Image: EC)