Heat-health experts meet in-person for the first time since pandemic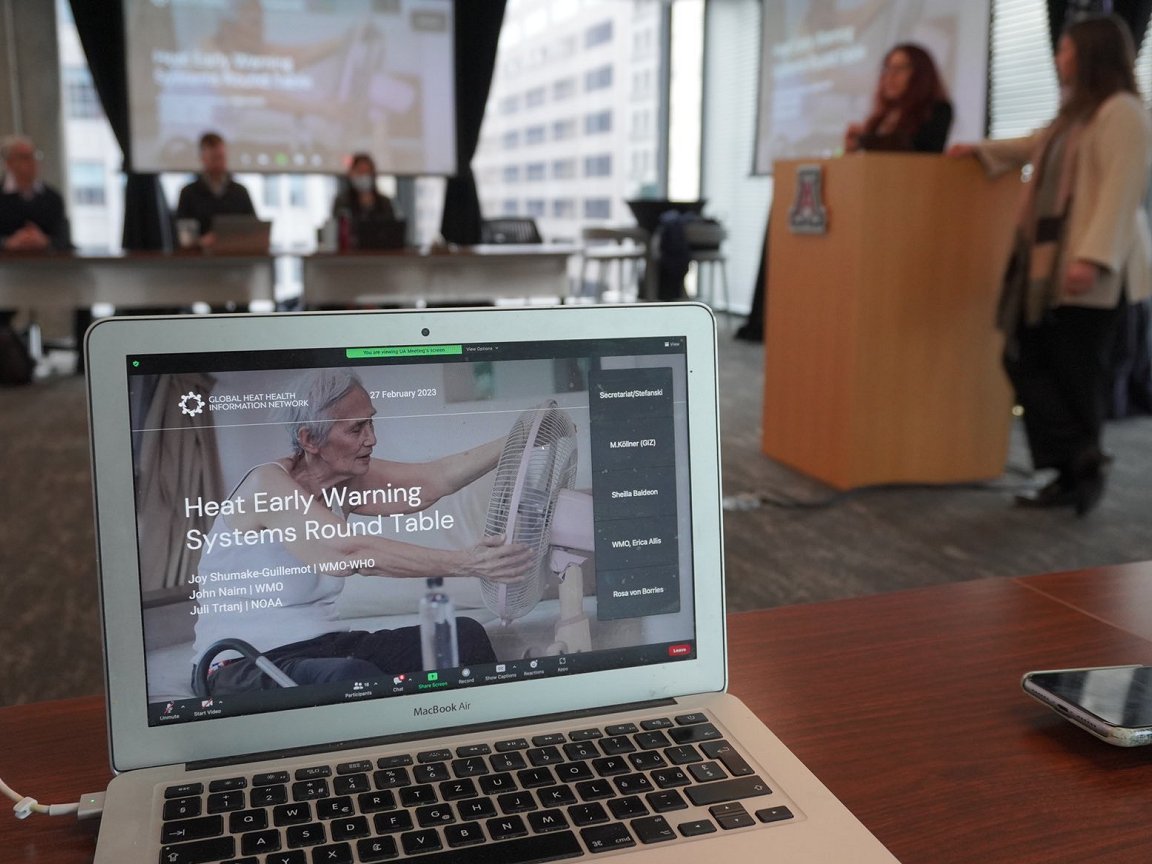 6 March 2023
By the Climate Centre
The Red Cross Red Crescent Climate Centre last week represented the Movement at the first in-person meeting of the Global Heat Health Information Network since the onset of the Covid pandemic.
The session was held at the University of Arizona's centre in Washington, DC and included a GHHIN management committee meeting, an expert round-table on early warning, and a hybrid public forum on "the impacts of extreme heat, preparing for a warmer world, and innovative solutions to address heat risks to human health," organizers said.
The round table served "as an initial conversation to identify key actors, coordination needs, opportunities, and priorities for future heat-health warning system investments, particularly aligned with the [UN] early warning for all global initiative," they added.
It was also a response to strong demand from health ministries evident last November at a virtual workshop led by the German government under its G7 presidency.
A report generated for that meeting quoted the IPCC as saying climate change is projected to "significantly increase population exposure to heatwaves and heat-related morbidity and mortality"; heat, it added, is a "growing major health-risk worldwide due to the observed increase in high temperature conditions and extremes, urbanization, and ageing populations."

'Silent emergency'
The forum was the first of its kind organized by the inter-agency heat-health group, which now plans a series of "global conversations on emerging and relevant technical issues to prepare for a warmer world.

"They will serve as an opportunity for sharing and learning across the world, synthesizing emerging knowledge and science, and identifying priorities and new opportunities."
The four main elements of the forum agenda covered impacts on vulnerable populations, preparing communities for emergency heat and a hotter future generally, an expert Q&A, and closing feedback
GHHIN is a global network of experts and policy-makers working to reduce the health impacts of what it calls the "silent emergency" of extreme heat.

The World Meteorological Organization, the World Health Organization, and the US National Oceanic and Atmospheric Administration are among its leading members.
GHHIN recently published a detailed analysis of what a return to El Niño conditions might mean for planners.
The GHHIN management committee meeting gets underway at the University of Arizona's centre in Washington, DC. It was the first time these experts on heat health had met face-to-face since the onset of the Covid pandemic. (Photo: GHHIN via Twitter)